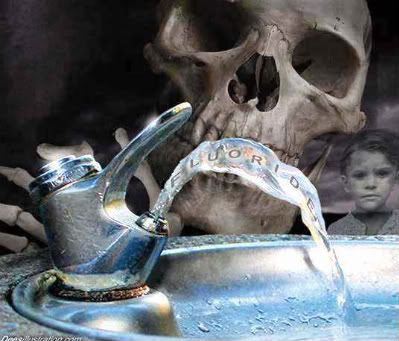 One of the techniques the government uses to keep the tax slaves under control is to put the toxic chemical Fluoride, which lowers IQ, in the water. The substance that is put into the public's water supply to, supposedly, prevent dental caries is
fluorosilicic acid
in Loudoun/Fairfax and Sodium Fluoride in other jurisdictions both of which are the toxic byproducts of aluminum and fertilizer manufacture. It is undeniable that fluorosilicic acid is poisonous. It states that it is poisonous on its
Material Safety Data Sheet
that the government requires on all toxic chemicals transported through the US. It states that it is poisonous on the labels on the bags that are received by the water treatment plants. The notoriously pro-government
Wikipedia
admits it is poisonous, as do
Natural News
and the
Mercola Natural Health Newsletter
which are the most widely subscribed health newsletters in the world. It is so toxic that I have been told by a superintendent of a water treatment facility that its fumes alone will actually etch/ruin glass in the rooms where it is stored and used.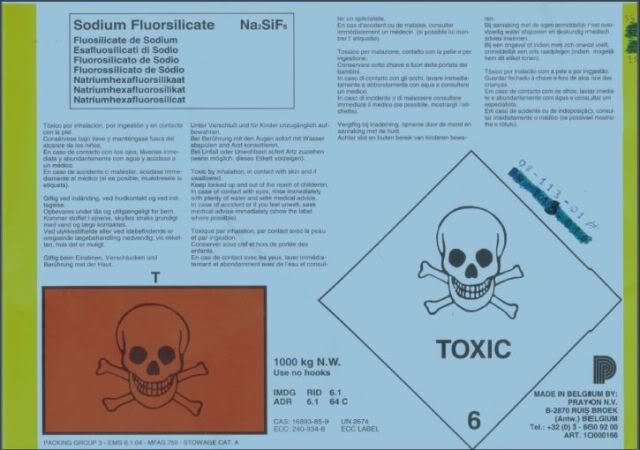 The Label from a container of Sodium Fluorsilicate / Fluorosilicic Acid

How Fluoride is Harming Our Kids and Teachers



Lower IQ -
Fluoride has been linked to lower IQ in 23 published studies from around the world.



Major Health Issues including

: Tyroid Problems including Hypothyroidism, Gastrointestinal Tract Problems, Compromised Immune System, Cancer,



Dental Fluorosis

- Ironically, Fluoride ingestion in the early years damages the tooth-forming cells leading to a defect in the tooth enamel and discoloration known as Dental Fluorisis.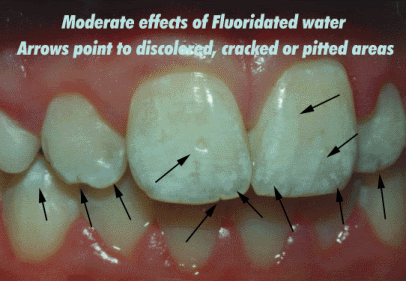 Does Fluoride Even Protect Teeth From Cavities?
Not really. Here is information from the Fluoride Action Network:
"According to the current consensus view of the dental research community, fluoride's primary - if not sole - benefit to teeth comes from topical application to the surfaces of teeth (while in the mouth), and not from ingestion.
It is also acknowledged by dental researchers that fluoride has little effect on preventing cavities in the pits and fissures (chewing surfaces) of teeth - where the majority of tooth decay occurs.
Perhaps not surprisingly, therefore, tooth decay rates have declined at similar rates in all western countries in the latter half of the 20th century - irrespective of whether the country fluoridates its water or not. Today, tooth decay rates thoughout continental western Europe are as low as the tooth decay rates in the United States - despite a profound disparity in water fluoridation prevalence in the two regions.
Within countries that do fluoridate their water (such as the United States and Australia), recent large-scale surveys of dental health - utilizing modern scientific methods not employed in the early surveys from the 1930s-1950s - have found little difference in tooth decay, including in "baby bottle tooth decay", between fluoridated and unfluoridated communities."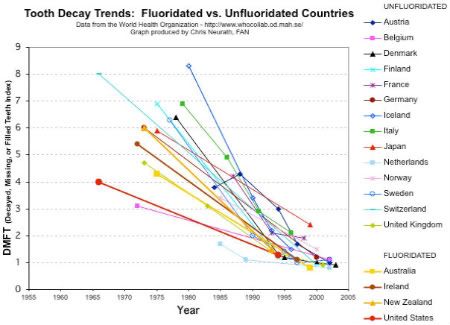 Do Other Countries Fluoridate the Water?


Very Few as the Chart above Indicates:
- 97% of western Europe has rejected fluoridated water due to the known health risks, however 10% of Britons drink it and the
UK government is trying to fast track
the fluoridation of the entire country's water supply.
- In Germany, Belgium and Luxembourg fluoridation of water was rejected because it was classified as compulsive medication against the subject's will and therefore violated fundamental human rights.

Who Say Fluoride is Good for You?
The Federal Government
- The US Public Health Service has been
promoting fluoridation
for 30 years and it doesn't appear that they are willing to admit their mistake anytime soon. The Federal Government is getting 50% of the public's income for its unconstitutional and flagrantly criminal activities so they have an interest in a dumbed-down and docile public. The scientists and toxicologists of the Enviornmental Protection Agency disagree and, through their union, have testified before Congress on the toxicology of Fluoride (See below).
The American Dental Association
- The ADA has a government-granted monopoly on the training and certification of dentists. It also receives financial compensation from the toothpaste companies for the use of its imprimatur on every box of toothpaste so it can hardly be called unbiased. Many ADA dentists disagree and actually market themselves as
"Fluoride-Free Dentists"
to appeal to the intelligentsia. The ADA's public position on Fluoride has been refuted point-by-point @
http://www.fluoridedebate.com/
The Aluminum and Fertilizer Industries
- These multi-billion dollar industries would be forced to pay about $10,000 per tank car to dump their hazardous waste in a Class A landfill vs. making an equivalent amount selling it to public health services to be dumped into the water supply.
Who Disagrees and is Sounding the Alarm?
14 Nobel Laureates in Medicine and Chemistry
- List compiled by the Dr. Paul Connett, Professor of Chemistry at St. Lawrence University in his important monograph:
50 Reasons to Oppose Fluoridation (Appendix 4)
1) Adolf Butenandt (Chemistry, 1939)
2) Arvid Carlsson (Medicine, 2000) -
Video Interview on Subject

3) Hans von Euler-Chelpin (Chemistry, 1929).
4) Walter Rudolf Hess (Medicine, 1949)
5) Corneille Jean-François Heymans (Medicine, 1938)
6) Sir Cyril Norman Hinshelwood (Chemistry, 1956)
7) Joshua Lederberg (Medicine, 1958)
8) William P. Murphy (Medicine, 1934)
8) Giulio Natta (1963 Nobel Prize in Chemistry)
10) Sir Robert Robinson (Chemistry, 1947)
11) Nikolai Semenov (Chemistry, 1956)
12) James B. Sumner (Chemistry, 1946)
13) Hugo Th
eorell (Medicine, 1955)
14) Artturi Virtanen (Chemistry, 1945)
The Scientists and Toxicologists of the Environmental Protection Agency -
The EPA's own scientists and toxicologists, through their union, have testified before Congress on the toxicology of Fluoride and requested that it be removed from the water.




Dr. William J. Hirzy, Senior Vice President of the EPA's Union testifying before the Senate on the toxicology of Fluoride and calling for a moratorium


Dr. William Marcus, the Former Chief Toxicologist of the EPA's Water Quality Program -
Dr. Marcus was an EPA whistleblower who was fired after publishing scientific reports on the toxicity of fluoride and recommending that it be taken out drinking water. Dr. Marcus' case was taken up by the Nation Whistleblower's Center which protects government employees from retaliation for publishing damaging facts about the government. He fought a two year legal battle where it came out that EPA lied, shredded documents, and falsified documents in their campaign against him. EPA was ordered to reinstate Dr. Marcus and pay back wages and damages for its actions.



Harvard School of Dental Health Researcher Elise Bassin

- Dr. Bassin research confirmed a link between fluoridated water and higher incidence of bone cancer in children that had originally been identified in research by the National Toxicology Program in rats. The Washington Post called Bassin's 2001 Doctoral Thesis work that showed this correlation in children

"is
considered the most rigorous human study to date on a possible connection between fluoridation and osteosarcoma, a rare but lethal form of cancer that affects males nearly twice as often as females"
. Illustrative of the way that monied interests have and continue to cloud the issue, Dr. Bassin's faculty advisor at Harvard, Dr. Chester Douglass, appears to have suppressed this research within the School of Dental Health. It was discovered that he was on the payroll of fluoridated toothpaste manufacturer Colgate as an editor of the
Colgate Oral Health Report
. The Environmental Working Group, an advocacy organization, stepped in to ask federal officials to open an investigation into Dr. Douglass' conduct in the matter which they did.

Thousands of Health, Environmental & Scientific Professionals
- The
Fluoride Action Network
, the leading organization fighting water fluoridation, has put together a
Professionals Statement to End Fluoridation
which has been signed by over 3,000+ Health, Environmental and Scientific Professionals. Signers include:
•
Arvid Carlsson
, Nobel Laureate for
Physiology or Medicine, 2000
• Vyvyan Howard, MD, PhD, Immediate Past President,
International Society of Doctors for the Environment
(ISDE)
• Ingrid Eckerman, MD, MPH, President,
Swedish Doctors for the Environment
(LFM), Stockholm, Sweden
• Raul Montenegro, PhD,
Right Livelihood Award 2004
(known as the Alternative Nobel Prize), President of
FUNAM
, Professor of Evolutionary Biology, National University of Cordoba, Argentina
• The current President and six past Presidents of the
International Academy of Oral Medicine and Toxicology

• Three scientists from the Environmental Protection Agency (EPA) Headquarters Union in Washington D.C.
* William Marcus, PhD, Former chief toxicologist of the EPA Water Division, Boyds, MD
• Three members of the National Research Council committee who wrote the landmark 2006 report:
Fluoride in Drinking Water: A Scientific Review of EPA's Standards
(Hardy Limeback, PhD, DDS; Robert L. Isaacson, PhD; Kathleen M. Thiessen, PhD)
• The Board of Directors,
American Academy of Environmental Medicine
• Two advisory board members of the UK government sponsored "York Review"
• Andy Harris, MD, former national president, Physicians for Social Responsibility, Salem, OR
• Theo Colborn, PhD, co-author,
Our Stolen Future
• Lynn Margulis, PhD, a
recipient of the National Medal of Science
• Ken Cook and Richard Wiles, President and Executive Director,
Environmental Working Group
(EWG)
• Ron Cummins, Director,
Organic Consumers Association
• Magda Aelvoet, MD, Former Minister of Public Health, Leuven, BELGIUM
• Doug Everingham, former Federal Health Minister (1972-75), Australia
• Peter Montague, PhD, Director of
Environmental Health Foundation
• Ted Schettler, MD, Science Director,
Science and Environmental Health Network
• Stephen Lester, Science Director,
Center for Health, Environment, and Justice
• Lois Gibbs, Executive Director,
Center for Health, Environment, and Justice
, Goldman Prize Winner (1990), Falls Church, VA
• Rosalie Bertell, PhD, Regent of the Board, International Physicians for Humanitarian Medicine, Geneva, Switzerland, Retired President, International Institute of Concern for Public Health, Toronto, Canada
• FIVE
Goldman Prize
winners (
2006
,
2003
,
1997
,
1995
,
1990
)
• Sam Epstein, MD, author, "Politics of Cancer" and Chairman,
Cancer Prevention Coalition
• Pat Costner, retired Senior Scientist, Greenpeace International
• Jay Feldman, Executive Director,
Beyond Pesticides
• Sandra Duffy, Board President,
Consumers for Dental Choice
• Joseph Mercola, Doctor of Osteopathic Medicine,
http://www.mercola.com
, Chicago, IL
• Michael W. Fox, DSc, PhD, BVM, MRCVS (former vice president of The Humane Society of the US, former vice president of Humane Society International and the author of more than 40 adult and children's books on animal care, animal behavior and bioethics),
http://www.twobitdog.com/DrFox/
, Minneapolis, MN
• Leo Cashman, Executive Director of DAMS (Dental Amalgam Mercury Syndrome)
• Chris Bryson, author,
The Fluoride Deception
• Environmental leaders from over 30 countries, and
• Legendary folksinger, songwriter and activist, Pete Seeger
Some Honest MainStreamMedia (mostly foreign)
- Here is a recent story by an Australian television network.
What Can Parents/Teachers, Ashburn Elementary School & the Loudoun County School System Do About It?
Here are some suggestions:
1. Parents & Teachers
- Get a water filter for your home that removes Fluoride and send your kids to school with fluoride-free water in a BPA-free bottle as I do with my kids. Buy Fluoride-free toothpaste (
it says right there on the label that it is poisonous
)
The most obvious solution is to get a water filter to remove the fluoride, chlorine, and any other contaminants from the drinking water and water used for cooking at the school. The last time that I saw the finances of the Ashburn PTO the organization was sitting on over $50,000+. The comment field is open below if anyone would care to name a more important use for that money than ensuring poison-free water for the students and teachers. I have already donated a small filter to the school which remains unused and I stand ready to donate, as I am sure that many other parents would as well, to any effort to buy the school a large capacity filter.
Actual Sign over an Ashburn Elementary School Water Fountain
2. Research the Issue
- Last year I contacted Dr. William Marcus, the former chief toxicologist for the EPA's water quality program. At the time Dr. Marcus was willing to do a conference call with the school administration and the Ashburn Elementary PTO which I suggested to the School's principal Mrs. Walthour be recorded and made available to the parents and teachers on the school's website. Mrs. Walthour refused. Why? I have requested to address the PTO on the issue on 4 separate occasions and have been refused. If there is credible evidence that the water that is being given to the students and teachers at the school is toxic then why would they not want to investigate the subject?
Additionally, the Loudoun County School District employs hundreds of science and chemistry teachers. I know from looking at the logs of this website that employees of the school district are frequent visitors to this site. Surely the school district has the resources to look into this issue and the other information presented on this website. If there is nothing to this then publish a rebuttal. The comment field for this article stands open and waiting below.
Research Resources
The Fluoride Action Network
-The leading organization globally covering the topic.
Book:
The Fluoride Deception
by Christopher Bryson
Dr. Joseph Mercola, publisher of the world's most subscribed health newsletter, and Fluoride Action Network head Dr. Paul Connett talks about the potential dangers of water fluoridation and what you can do to help remove fluoride from your water supply.
Part 2
,
Part 3
,
Part 4
,
Part 5
In this video, award-winning journalist Christopher Bryson, author of The Fluoride Deception, examines one of the great secret narratives of the industrial era; how a grim workplace poison and the most damaging environmental pollutant of the cold war was added to our drinking water and toothpaste.
Part 2
,
Part 3
About the Author
Howard Lichtman is a parent of two students at Ashburn Elementary School, a member of the PTO, and a technology analyst, consultant and publisher. Mr. Lichtman is a frequent commentator on visual collaboration and his writings on and analysis have been featured by
US News and World Report, Telephony Magazine, CXO Magazine, The Chicago Tribune, Reuters, Pro AV Magazine, Killer App Magazine, ABA Banking Journal, Bank Systems and Technology Magazine
and
CFO Magazine
among others.